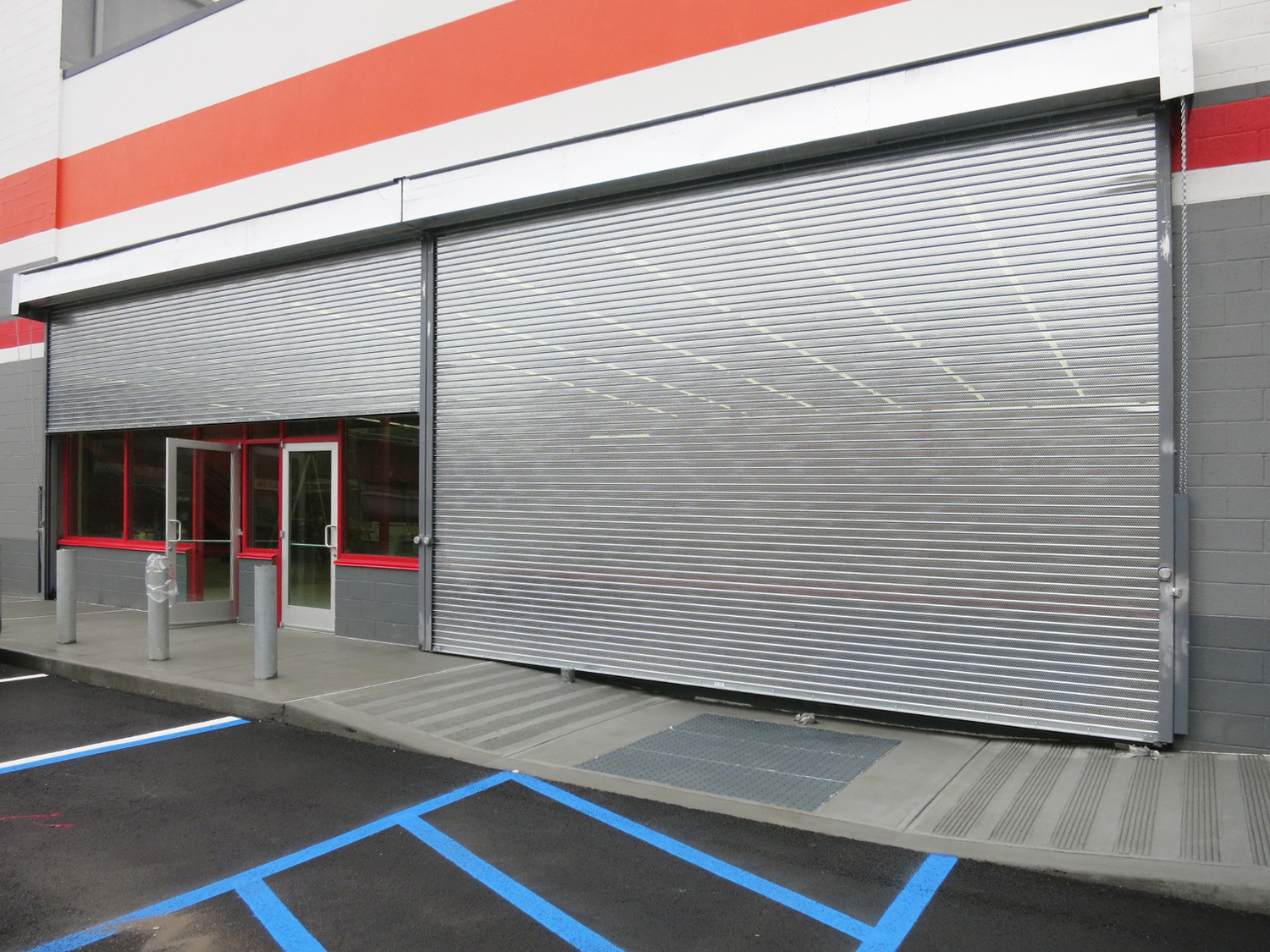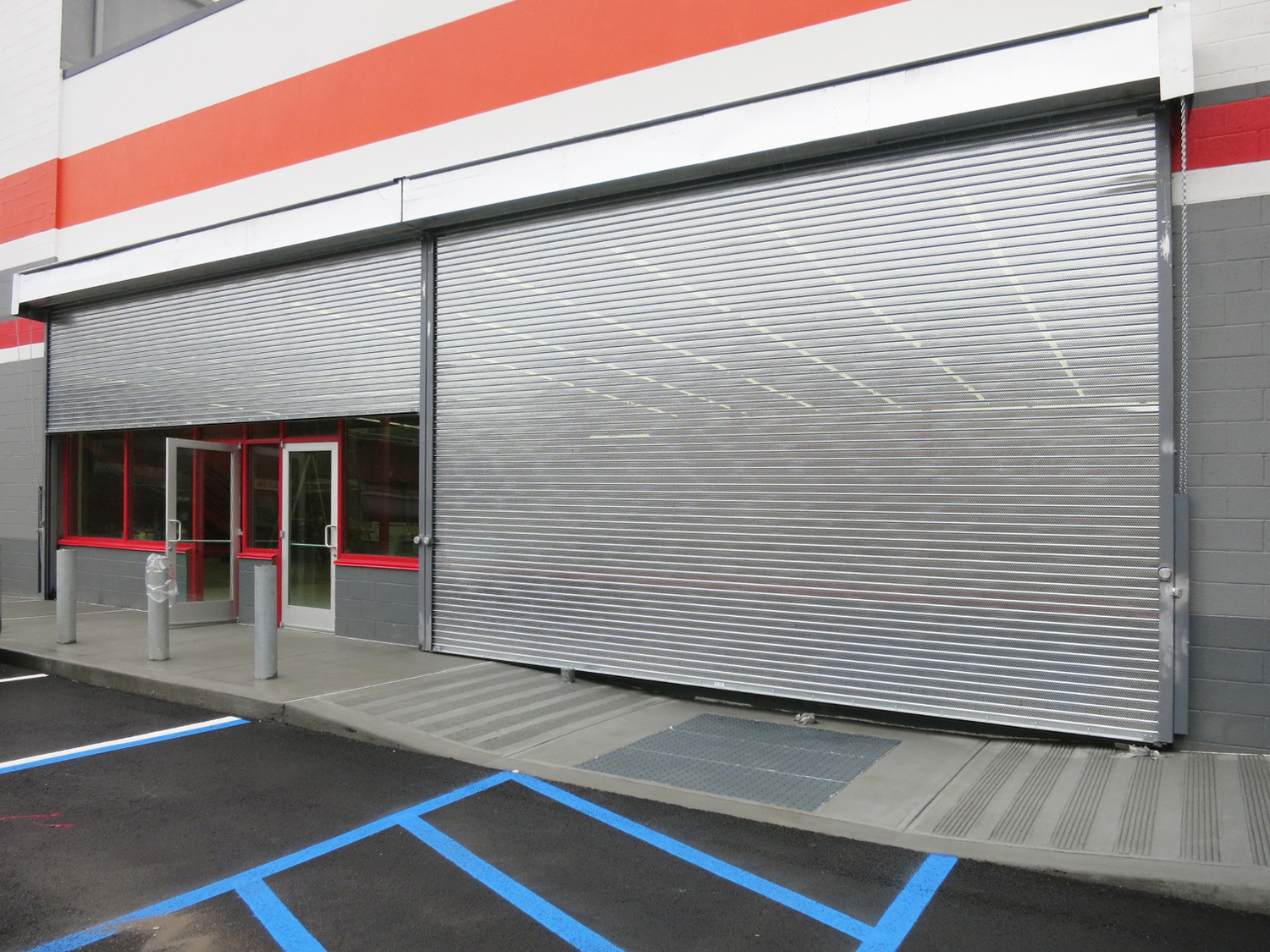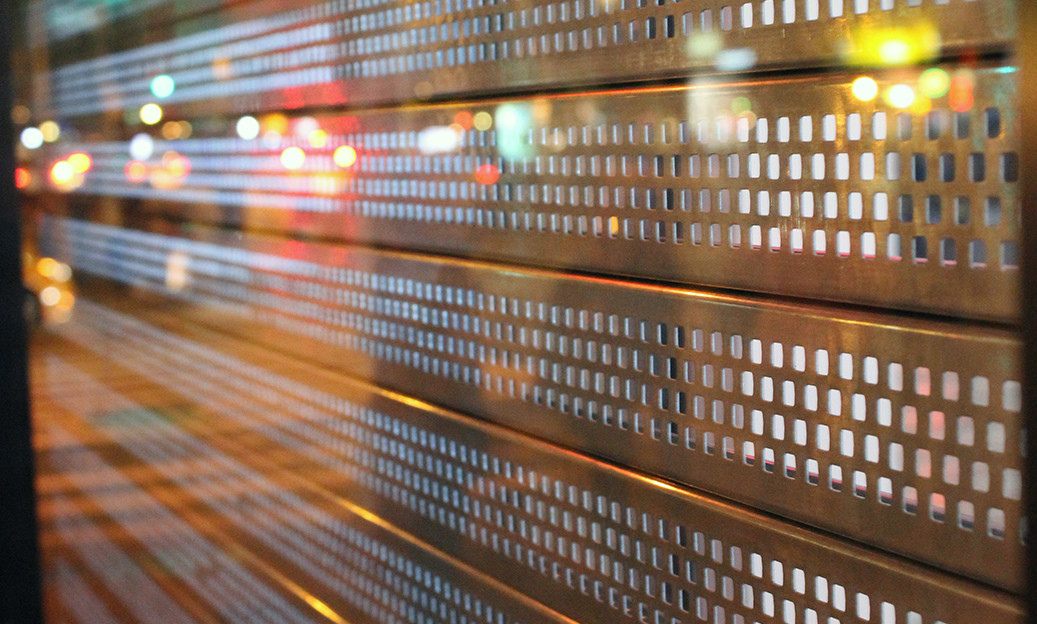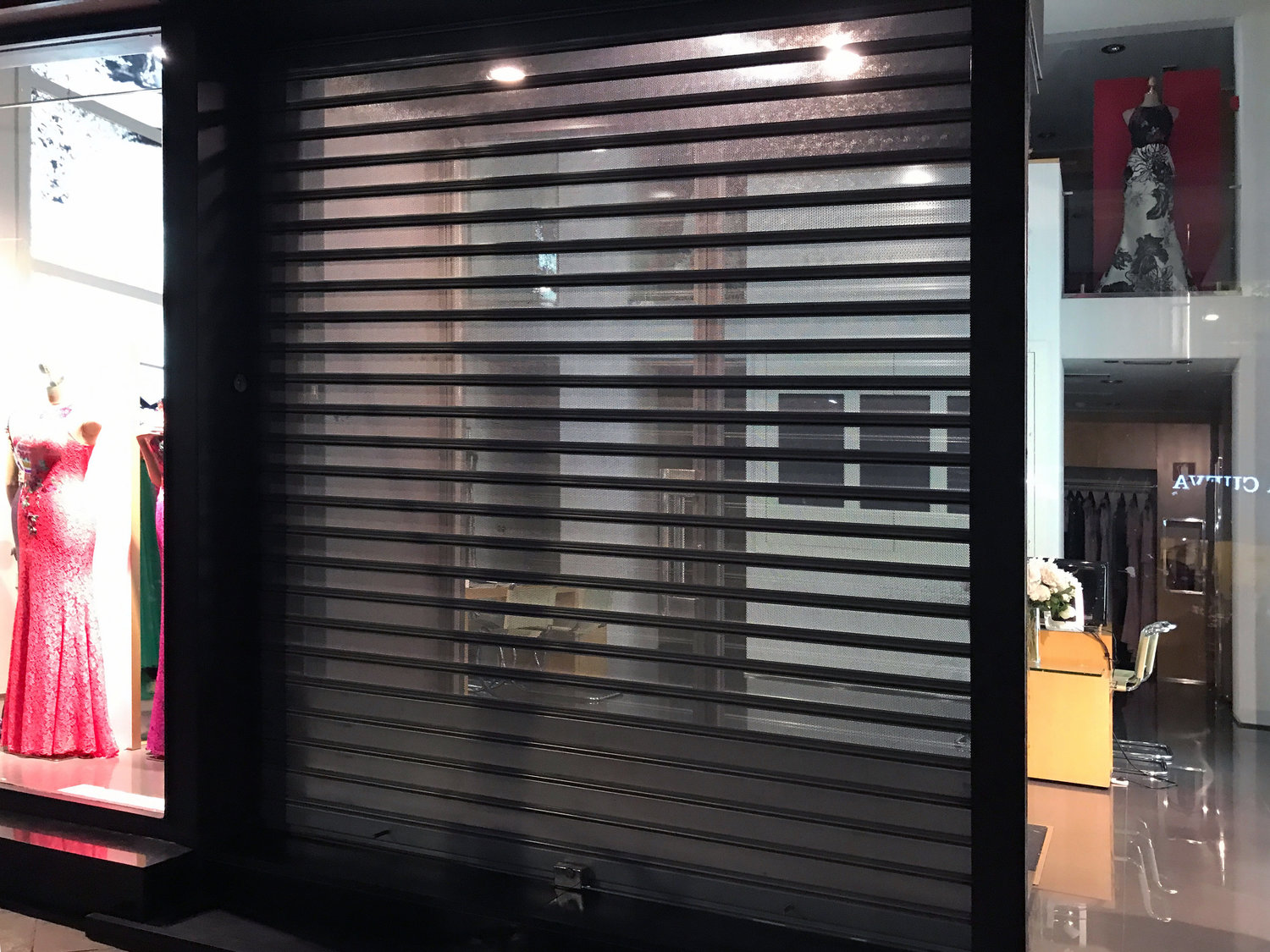 Perforated Rolling Door
Starting at $710
Perforated coiling security shutters offer a clean, uncluttered view that maintains a high level of security while eliminating the claustrophobic effect of being "closed-in". Typical applications included: storefronts, office windows, shopping malls, display cases, ventilated areas and many more applications.
Description
Full-length, reinforced perforated curtain sections provide the ultimate in aesthetics & security.

Totally enclosed preventing unwanted hands & debris, while allowing 100% visibility both inside & out.

Reinforced curtains provide durability & rigidity.

Heavy-duty bottom bar system with solid aluminum end-caps.

Titan Locking System with lock rods over ½" thick built to withstand potential security breaches and operator misuse.

Calibrated torsion spring counterbalance for ease of operation.

Perforated slats available in 2.0″ or 1.5″ slat widths.
LISTINGS
Meets city visibility code requirement. Due to the perforated curtain these doors don't qualify for wind, fire, smoke and/or sound rating.
SIZE
30′ wide 30' high standard construction.

Large openings available of 60′ wide or more, consult factory.
CURTAIN
Perforation available in square or round pattern design.

Pattern is available in regular or micro-perforations.

Both perforations sizes conform to city visibility requirements.
OPERATION
Motor, Chain, Hand-Crank or Push-Up operation available based on size, weight or frequency of operation.

Battery backup available to ensure operation in the event of power failure or blackout.
BOTTOM BARS
Bottom Bar options include: Single Angle, Double Angle, Tubular (extruded alum.) or "T" bottom bar.

Bottom Bars have typical Mill Finish.

Additional options: Clear Anodized, Galvanized, Stainless Steel and Powder-Coated.
SLATS
Manufactured from 2.5" wide metal slats roll formed to interlace together to create a continuous steel curtain.

Also available in 1.5" wide for counter shutter applications or to meet astringently small headroom requirements.
USAGE
Standard construction is up to 15,000 cycles per year with High Cycle Construction available for doors expected to be operated more than 15,000 cycles per year, i.e. parking garages, sally ports.
MATERIALS & FINISHES
Curtains have typical exterior finish in Mill Finish, Clear Anodized or White.

Additional options include: Galvanized, Stainless Steel, Galvalume and Powder-Coated.

Exterior skin is available in 24, 22, 20 and 18.

For perforated door the gauge is typically determined by door size, consult factory.
HOOD/COVER
Hoods are typically furnished if the coil is exposed. If provided, hoods are typical Steel Galvanized Finish.

Additional Finish Options: Stainless Steel, Galvalume and Powder-Coated.

Standard shape is round cover.

Options available for square or hexagonal shape upon request.

For aesthetic purposes if the coil is exposed there is a fascia option to hide door in up position.

Motor cover available for preventing weather intrusions and security protection.

For hand operation different cover options are available for chain mechanism to accommodate weather intrusion, security protection and aesthetics.

Covers can be provided for all exposed mechanical parts, consult factory.
LOCKING
Chain Operation: Wall mounted chain keeper or zinc plated steel slide bolt with padlock provisions.

Push-Up or Hand-Crank Operation: Slide locks, Round Locks or Cylinder Locks for locking at bottom bar (bottom bar design effects locking option available).

Motor Operator: No additional locking required as motor has automatic feature to prevent door from being lifted

web stranica

. Additional locking mechanisms include Slide locks, Round Locks or Cylinder Locks for locking at bottom bar (bottom bar design effects locking option available).
FAST ACTING DOORS
For high traffic openings or where airflow or temperature control is critical, doors can be designed to operate at more than twice the speed of typical doors, or up to 2 ft./sec.
GUIDE MATERIAL
Guides are typical extruded aluminum mill finish.
WARRANTY
2-year warranty against defects in materials and workmanship. This warranty extends only to the direct purchaser (distributor, wholesaler, or contractor) from Best Rolling Manufacturer and is not transferable.